How to choose a perfect rug for a kitchen
Author: Anna Date Posted:22 January 2018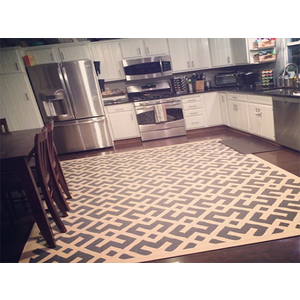 We had a customer come to us looking for a rug for their kitchen. They wanted a rug for their kitchen and were asking for advice. Now kitchens are not a common place that people put rugs, so it can be hard to find a rug that is practical and stylish. Kitchens are high traffic areas with water, spills of food and usually do not have any furniture, so need a rug to be durable, stain resistant and ideally washable. Beyond Bright have a range of options to choose from for the perfect kitchen rug.
Ther are a number of questions that need to be answered in order to choose a kitchen rug
What area do you want to cover? Is it just a space in front of the sink to collect droplets of water or is it to cover the entire area?
Is the floor in your kitchen subject to lots of spills or do you live in a quieter household with minimal mess?
Our first tip would be to use an outdoor rug, as these are waterproof and can be washed if spills occur. For splash protection from the sink a small padded mat may do the trick and finally if you are set on a natural material, then choose a cotton rug. There are certain materials that you should avoid also, as it will be money wasted and you'll be out shopping for a new rug in no time.
Area Rugs for Larger Spaces
If you are looking to cover the whole floor space in a kitchen, the most suitable type of rug is an outdoor rug. Outdoor rugs are usually made of polypropylene or plastic and are waterproof and are designed to get wet and dirty and to be washed. They are also mould resistant which is important in a kitchen, as you don't want mould forming from spills. Outdoor rugs are made of polypropylene and also have a polypropylene backing, which means that unlike indoor rugs, which have a jute or cotton backing, they will not absorb spills inside the rug.
Flatweave Outdoor Rugs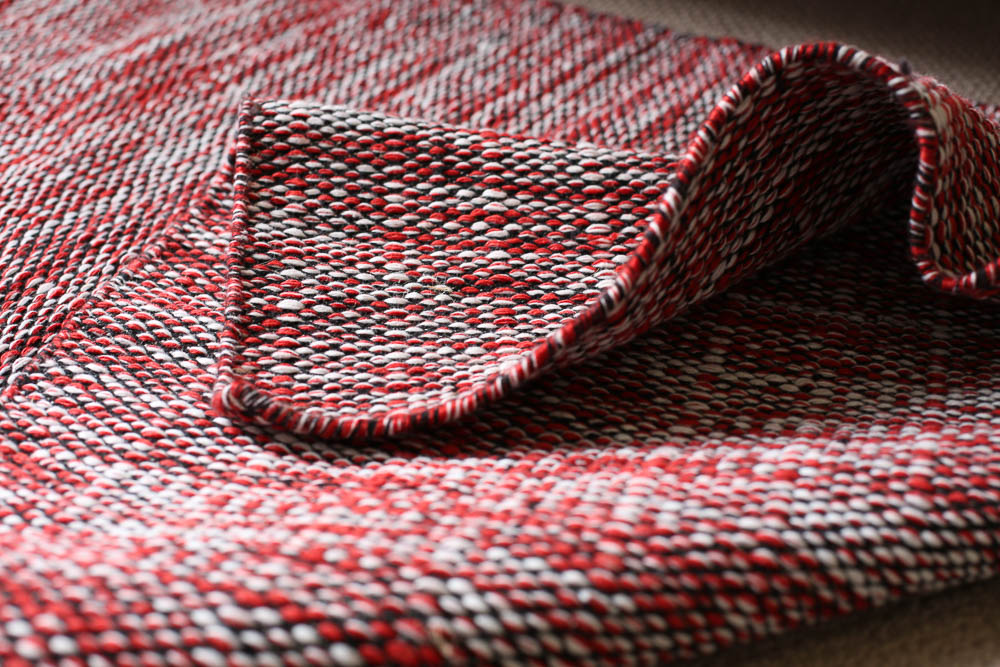 Fab rugs have fantastic outdoor rugs made from 100% recycled plastic. They are waterproof and washable and a perfect choice for a kitchen as it will not get mouldy and its easy to clean up after any spills.
If you are after a softer feel flatweave, but still want the benefits of plastic, don't look further than Fab Rugs P.E.T. rugs. These rugs are made from soft premium polypropylene, which actually feels like wool, so no one will ever know that it's a plastic rug. These rugs are easy to maintain and if you spill something, they can be hosed off and air dried.
The plastic and P.E.T rugs are available in a range of sizes from biggest to smallest so can cover your whole kitchen floor if you wish
As kitchens tend to be open spaces and have tiles or hard floors, it is important to secure your rug with a non-slip underlay, so that your rug does not slip and slide and be a potential hazard. An underlay is a soft rubber mat that sits under your rug and secures your rug in place.
Non-Slip Outdoor Rugs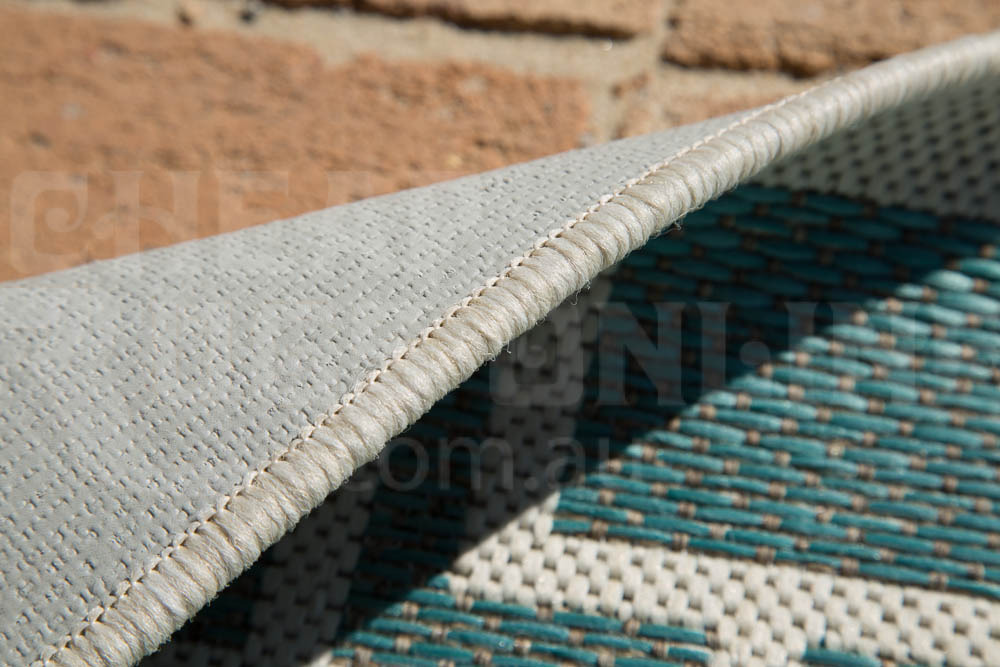 If you don't want to worry about an underlay, there are flatweave outdoor rugs available with a rubber underlay included. The Suva Collection of outdoor rugs features neutral browns, greys, beiges and blacks and simple designs, If you are feeling slightly more adventurous with your colour choices, the Monaco outdoor rugs will bring symmetrical trellis designs with a Moroccan feel and light colours - blue, green, red and orange.
Non-slip padded PVC mats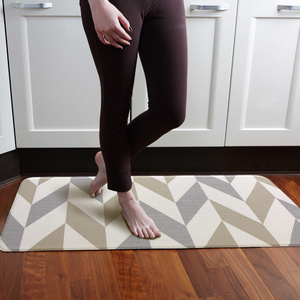 The padded waterproof kitchen mats range is the ultimate no maintenance way to splash proof your kitchen floor near the sink or stove. Made from non-slip PVC, they are cushioned and double sided giving you a choice of 2 different designs in one. Simply wipe off any spills with a wet cloth! Easy!
Your heart is set on a natural fibre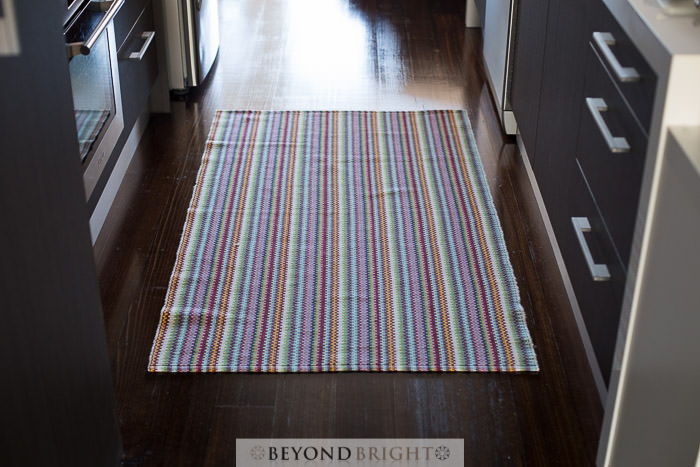 If you absolutely must have a natural fibre rug, then choose cotton. Cotton is durable, colour fast and strong fibre and comes in great colours. Be sure to choose a pure cotton rug and avoid blended fibres such as cotton/Jute or cotton/wool. Although cotton absorbs spills and stains, it is more susceptible to washing. We have a small cotton mat in our kitchen from Fab Rugs and we have machine washed it to keep it clean. This has worked well so far but I can see some unravelling of the rug after a few months of use and machine washing.
Materials to avoid
Jute / Sisal / Wool / Hemp - all these natural fibrers are extremely thirsty fibre, it soaks up the water and spills, are hard to wash and does not belong in the kitchen
Indoor rugs with a pile - although these rugs will look great initially, after quite a short time, they will show wear and tear in a high traffic and high mess area such as the kitchen
---
Comments (1)
Outdoor dining?

25 January 2018

Great information guys. What would you recommend for an outdoor dining bbq area that gets a lot of sun? Would the recycled mats melt in the heat?





Beyond Bright Response
Hi Peter, Thank you for your question. Any of the outdoor rugs will be suitable for an outdoor dining area that gets lots of sun. They are UV stabalised and waterproof and would be fine even in the hottest days. Have a look at our full range of outdoor rugs here - https://www.beyondbright.com.au/rugs/style/outdoor/. Let us know if we can answer any more questions.:) Regards, Anna
---
Leave a comment